Name: Elena
Mail headers: Received: from WIN-KK9MTHH77EU ([46.109.54.128])
(authenticated bits=0)
by mail123c38.carrierzone.com (8.13.6/8.13.1) with ESMTP id r7M9Vqba004803
for <Hidden>; Thu, 22 Aug 2013 10:16:53 +0000
Date: Thu, 22 Aug 2013 05:25:00 -0400
From: Elena <kislie.litsa@yahoo.com>
To: <Hidden>
X-Mailer: The Bat! (v3.99.24)
Message-ID: <493217370.20130822052500@yahoo.com>
Subject: Hello!
MIME-Version: 1.0
E-Mails used: kislie.litsa@yahoo.com, utroyasnoe@yahoo.com,
Description: Hallo! Hoe gaat het? Mijn naam is Elena. Je kent me niet. Maar ik weet met je mee. Ik denk dat de vraag te stellen, toen ik mijn e-mailadres. Ik kwam naar dating in mijn stad en vroeg ze vinden een buitenlandse huwelijkspartner. ik hoop dat Zoek iemand met wie ik kan ware liefde te vinden. ik hoop dat dat u ook op zoek naar. Ik ben 31 jaar oud en ik woon in Rusland. Als u bent geinteresseerd in het kennen mij, email me op mijn e-mailadres: utroyasnoe@yahoo.com Ik hoop nog steeds op een antwoord. Heb een goede dag! Goodbye Elena
Translation in english: Hello! How are you? My name is Elena. You do not know me. But I know with you. I think to ask when I got my email address the question. I came to dating in my town and asked them to find a foreign spouse. I hope to find someone with whom I can find true love. I hope that you are looking for. I am 31 years old and I live in Russia. If you are interested in knowing me, email me at my email address: utroyasnoe@yahoo.com I still hope for an answer. Have a good day! Goodbye Elena
Photos used: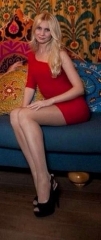 Reported by: Paul McWire
Note from the poster: This letter is originally written in dutch, with some kind of electronic (online) translator due to the mismatch in the sentences. It seems that the photo has been taken from facebook(?).