Real Name: Fatima Muhammad(?)
Names Used: Medina Muhammad, Fahad El-Hamzah, Ahmed Muhammed, Sola Raji, Ameera Yerima,
Email adresses used: [email protected], fahadel[email protected], [email protected], [email protected],
Home adresses used: 
Ahmed Muhammed
Mallam A.K Bello Estate,
Garki, Abuja.
Nigeria
Fatima Muhammad
Address: #457, One Queen Square
L1 1RH Liverpool
United Kingdom
Cell phone numbers used: +447024028860 (UK),  +447924587445 (UK),  +2348181658427 (Nigeria),
Bank Name: Access Bank PLC, Stadium Complex, Ilorin, Kwara State, Nigeria.
Account Name: Sola Raji.
Account Number: 0339224246
Sort Code: 044140395
Operates/Operated on site(s): qiran.com, islamicmarriage.com, muslima.com, arablounge.com,
Description: Through the site qiran.com (a muslim marriage site) we get acquainted and started our dialogue. She claims to have the British citizenship, her father was originally from the UK and her mother from Malaysia, Medina and her sister born in the UK. After some days she wanted to exchange our phone numbers, so we did and she gave me a UK cell phone, when i tried to call, it was not working, telling her about this, she gave me another UK cell phone number and this was working, we spoke with each other on the phone and also we sent SMS to each other. She told me that her father died past december 2011, she has one younger sister living with her and her mother in the UK. On 31/10/2012 i got letter from her saying, that she will go to her aunt who lives in Africa, because her aunt gave a birth a baby boy and that her husband works with Oil company as a petrol chemical Engineer in Africa. But on the letter with date 04/11/2012 wrote that she are preparing go to Africa for her cousin's Nikkah (Islamic wedding). Again i asked her to clarify, but she didn't. On 09/11/2012 she wrote that on 10/11/2012 she and her mother will go to London for buy flight tickets (rather strange if you can also buy flight tickets through travel agency in Liverpool), asking her why they not buy flight tickets in Liverpool, they didn't answer this question. On 18/11/2012 they arrived in Abuja, Nigeria(!), but in the letters always wrote Abuja, Africa, they never did mention about Nigeria, Medina gave me a Nigerian cell phone number. On 23/11/2012, i got letter where Medina asking me, transfer 850 GBP (around 1.200 US Dollars) to a bank in Nigeria, to her uncle's account, his name Sola Raji. I asked her for what she need such many money and that here in the UK there are so much restrictions sending money to Nigeria due to scams activity there, for send money to Nigria, my bank wants to have, a official copy of her (suposed to be British) passport, with stamp from the notarius, a copy from the local UK registration department (prove of living official in the UK), she never sent it to me, with excuse that she cannot make such documents because she is outside of the UK. Then on 26/11/2012 she wrote, to transfer the money though MoneyGram and gave me an address of Ahmed Muhammed in Abuja, Nigeria, again i asked for what purpose she needs such many money, and again she didn't answer my question.  I stopped with the acquaintance with this person because i was feeling, it was not pure and real. To be sure for this, i went to Heathrow Airport in London, to the Head Office of Immigration where all passengers, who comes or leaves through the UK border control, i told to them what's happened and wanted know if there in the past weeks somebody named Medina Muhammad or Fatima Muhammad passed the UK border control at the Airport, i gave them the photo of this Medina, but there not was such person in the records from the past 4 months, even searching through the photo of Medina, wasn't any positive results. The border officer told me that this is a sort of scam and that they should be aware if, someone who looks like on the photo will cross the UK border.
Photos used: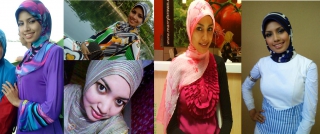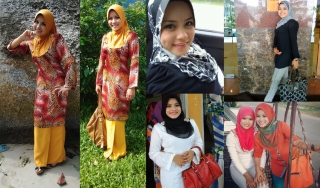 Reported by: Suleyman Çelik from Slough (London), United Kingdom