Updated on 21 of June 2015 (New Facebook profile, Skype and phone number)
Real name: Marzanna Ludwicka
Date of birth: 22 March 1978
Fake names used (so far): Maria, Weronika, Katarzyna, Maigorzata, Polina, Eryka, Karolina, Wiktoria, Ewelina, Agnieszka, Zuzanna and more…
Address(es): Meander 24, 1619XS, Andijk (The Netherlands)
Locations: Andijk, Medemblik, Enkhuizen (The Netherlands), Manchester (UK, not confirmed yet)
E-Mails used: [email protected]
Skype: marzanna.ludwik, maludwicka,
Operates/Operated on site(s): halina.nl, Google+, Facebook,
Phone numbers used: +31(0)623832947, +31(0)684269398
Bank Account: ABN-AMRO Bank (ex Fortis Bank) 82.54.65.184 (IBAN: NL40ABNA0825465184)
Description (original message in dutch, for english scroll down):
Deze dame geboren op 22 maart 1978 is van Poolse afkomst. Ze is alleen maar op geld uit en verzint allerlei smoesjes om mensen zoveel mogelijk geld afhandig te maken terwijl ze doet alsof ze heel graag wil samenwonen. Soms vraagt ze om het geld te storten op haar Fortis Bank (nu ABN-AMRO Bank) rekening, maar ze zal dan nooit op komen dagen. Het is gewoon een oplichtster. Ze wil ook nooit haar echte adres geven. Momenteel heeft ze een zoontje genaamd Santino geboren op 18 april 2006.
Ze heeft in Andijk gewoond of woont daar nu nog in die regio (misschien Medemblik) samen met ene man genaamd Jaap (De Vries?), rijdt in een donkergrijze BMW, hij is ongeveer 50-55 jaar oud, kaal, normale postuur en dus ook de vader van Santino. Zelf zegt ze dat ze nu in Manchester (Engeland) woont. Hier is een recente foto van haar.
Translation into english:
This lady was born on March 22, 1978 is of Polish descent. She only wants your money and invent all kinds of excuses to get money from many people possible while she pretending that she really wants to live together with you. Sometimes she asks to transfer money to her Fortis Bank (now ABN-AMRO Bank) account, but she will never came to you. It's just a fraud. She never wants to give her real address. Currently she has a son named Santino born on April 18, 2006.
She has lived in Andijk or lives there now in that region (perhaps Medemblik) together with one man named Jaap (De Vries?), he drives a darkgrey BMW, he is about 50-55 years old, bald head, normal stature and hence the father of Santino. She says that she now lives in Manchester (England). Here is a recent picture of her.
Photos used: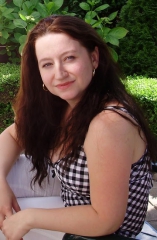 Reported by: Peter van der Meer (Enkhuizen, The Netherlands) **te***3*7**e*[email protected]