Name: Marina Chumakova
E-mail addresses: [email protected],
Mail headers: Received: from 95-91-12-199-dynip.superkabel.de ([95.91.12.199] helo=VISTA)
 by mx.******.com with smtp (Exim 4.72)
 (envelope-from <[email protected]>)
 id 1Pmagc-0007E1-Jq
 for <hidden>; Tue, 08 Feb 2011 00:40:04 +0100
Reply-To: [email protected]
From: "Marina"<[email protected]>
To: "" <hidden>
Subject: hello
Sender: "Marina"<[email protected]>
Mime-Version: 1.0
Description: Good afternoon, dear professor, I have found your e-mail address on the our university forum, I hope this is still works. My name is Marina Chumakova, I am graduate of Kirov branch SPbGUP. OK dear Sir, if I right understand, I can study in your city, but I did not understand what about my living? Please, I would like to know where I can stay? And this is absolutely all without any payment? Of course I want to study and if this is free, I will see how much it will cost for me to travel to your city
and what document I need, ok? But I should warn you that I can use small amount, of course. And I would like to know about possibility to find any job here?
I added my short resume and photos below:
Full name – Marina Chumakova
University – Kirov branch of St. Petersburg University of Humanities
Diploma – Main Specialist of Sports Journalism
Place of birth – Arad (Romania)
Place of living – Kirov (Russia)
DOB – 03.12.1982 – 28 Years old
Status – Single (never married)
Children – (0)
Brothers/sisters – (0)
Sport – Tennis/swimming
Hobby – Sport, fitness
If you have to know more about me, please let me know, please, I will glad to give you any info ok.
Will wait your respond
Yours respectfully Marina
Photos: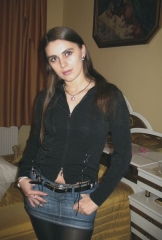 Reported by: Pierre Parisien