Name: Ekaterina, katrin
E-mail adresses: [email protected],
IP address: 77.40.72.77 (Volga Telecom, Yoshkar Ola, Russian Federation)
Description: Hello! How are you? I consider dating site so as to meet the man and to begin acquaintance. I want to meet the man for relations and creating family in the future. I do not search the friend, sex or relations through the Internet. I dream to meet serious the man which wants to begin real relations and to create family. When I considered dating sites I have seen yours profile. It has very much interested me. I think, you that man which I search. I have decided write to you the letter and send my photo. If you also want to meet the woman for serious relations and create family, if you like my photo then you can write to me on: [email protected] then we can exchange a photo and learn each other better. It would be very pleasantly to me if you answer my letter and send your photo. I wait your answer. Katya.
(The same history after begin communication)
Photos: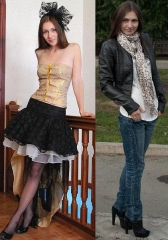 Reported by: Paul Mcwire