Updated on: 27-09-2013. This scammer are nowadays active on TAU2, lavaplace, romancering.us, and other dating sites.
Real Name: Alena Roshepko, Alena Roshchepko
E-mail adresses: [email protected]
Operates/Operated on site(s): olx.it, olx.com, tau2.com, skype, lavaplace.com, romancering.us, loveplanet.ru, datingzon.com (Search:  Alenaperm), zhenihinevesta.com, saretefamosi.it, adultsingles.com, 2-love.ru, luckylovers.net,
Description: She answers to announces from men seeking women on olx.it in personals. After contact she fall in love with you and want to meet you. She asks for job visa and money, but you shouldnt never see her. She also can contact you on skype. Her last activity was in Milano Italy in summer of 2010. Source from the italian department of social security. When her visa finishes she go back to Perm in russia and starts from the begin searching for the next man from spain or italy.
Note from the Admin: She has sent to us this letter dated on 21 May 2013:
Hello Admin!
I looke in internet this infrormation about me, that I am scammer. And
now i would like to know why you write this bad information about me
without check??? I never dont meet Paolo? How is it? Also I never habe
been in Italy and its very easy to check)) (my pasport). Also I marred
in 01/09/2009 and in summer 2010 I was pregnant and wait my baby.
And now she is 3 years old. But I dont like that this taradiddle can
read evreybody in internet! Please answer me what doues it mean?

Well Alena, if you are married and has a child (as you wrote on this letter above!), what the heck are you doing on dating sites and why you're posting profiles on there? Obviously, to scam people, to get visa (and some money) to spain or Italy.
Photos used: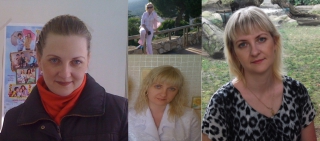 Reported by: Paolo and Admin.