Name: Mariel Yunson
E-mail: [email protected],
Yahoo Messenger: yunsonmariel
Skype: mariel.yunson
Description: I meet her on dateinasia.com, we began to talk through yahoo and she wanted meet me in her country. When i came to her, she was waiting me near the hotel where i reserved. In real she are not so pretty as on her photos. When the days left, i began to realize that this girl are a real gold digger, coz, she wanted many nice things and also always asking for money, after 3 days i dumped her. Also her phone did'nt stop ringing and was look like some kind of men or may be her pimp. I went back to the US, but very dissapointed about her. It was a hard lesson for me not to believe in internet love. For me was the first time using an online dating site, and was also the last one. and spent many money to her. On her facebook account, you can see that she has many men from abroad, while i was in the Philippines she was chatting with other men through Facebook and other sites.
Operates/Operated on site(s): facebook.com(1), facebook.com(2), dateinasia.com, Google+, scribd.com,
Photos used: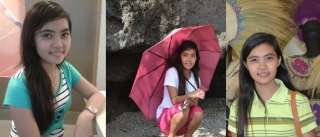 Reported by: Dave Morgan, California, United States.